Managed Services Proposal For
**COMPANY NAME**
Proposal Issued:
Proposal Prepared By:
Proposal Valid To:
Contents
EXECUTIVE SUMMARY
SOLUTION OVERVIEW 
ABOUT LEVEL5 MANAGEMENT 
YOUR INVESTMENT & INCLUDED FIXED-FEE SERVICES 
GUARANTEED RESPONSE TIMES 
FREQUENTLY ASKED QUESTIONS 
DEPLOYMENT TIMELINE 
NEXT STEPS
| Executive Summary
Dear Anna Kirstein,
Thank you for the opportunity to submit our proposal for IT Services to help you take the hassle out of managing your IT.
Based on our recent conversation, we understand that you are after:
A local IT Support Business (that is not a one-man band)
Fast and dependable IT support (no answering machines)
Someone that understands your industry.
A company with a security-first mindset.
Our goal is to do everything we can to make sure we give you reliable, cost effective, fast and most of all WORRY FREE IT Support, so that you can focus on what you do best.
We cover the following:
North American Helpdesk – A friendly IT Helpdesk at your service
(Finger Tips)
Monitoring – 24/7/365 Monitoring of your IT
(Computer Network)
and Cloud Infrastructure
IT Planning – Regular IT Catch-up on budgets/planning
Vendor Management – we deal with your other IT vendors on your behalf
Fixed Costs – all for the one fixed monthly price
You get the following:
Faster IT systems allowing (performance providing) for better productivity
Fixed monthly costs, allowing for easy budgeting
Regular reporting so you know what's happening
Reduced downtime with proactive monitoring and maintenance
PEACE OF MIND
We'd love the opportunity to become your IT partner of choice and as such are happy to off er you a 30 day guarantee – if you are not happy with our service after the first month, just let us know and we'll refund your money!
ITaaS RECOMMENDATION
Level5 will address your current challenges and provide a solution that evolves with your business.

Based on our assessment of your environment and needs, we recommend the following:

Level5's TrinIT Cybersecurity 
MANAGED SERVICE SOLUTION

………………………………………………………..

INTEGRATION

Level5's TrinIT Solution

is a comprehensive solution that combines the best in24/7 network monitoring, proactive maintenance, and help desk, with the most robust IT security on the market.
| Solution Overview
Level5 Management's fully managed IT solutions open up enterprise-class technology to companies of all sizes, allowing small and medium businesses to disrupt the market and compete in ways they couldn't before. Designed to meet the dynamic and rapidly-evolving technology needs of precisely the industries we serve, every Level5 solution is governed by an uncompromising objective to achieve both the highest level of security and productivity — never borrowing from one to serve the other. With our managed service options, we give even the most collaborative and demanding teams the power, security, and freedom to work without interruption and from anywhere. And with our robust support plan built-in, theLevel5 team becomes your full-service IT Department, dramatically improving service uptime by proactively working to prevent IT failures.
PROGRAM BENEFITS
Diminished business impact from IT failure through reduced incident mean time to resolution (MTTR).
The highest level of IT cost predictability which helps eliminate peaks and valleys in your IT spending.
Scalable cloud environment transforming your organization into the future of digital workplaces.
Customers have a single point of contact for all IT requirements and support, including third-party vendor support.
A more stable network environment due to standardization and sophisticated maintenance and support levels backed by appropriate service level agreements.
Security, security, security – our programs are strictly focused on security to give you and your staff peace of mind with today's ever-changing technology threats landscape.
Virtual Chief Information Officer to provide your organization with IT Consulting and align your IT strategy to your overall business goals.
Priority Response – our managed customers get preferential treatment and a rapid response on support.
Level5 Managed IT Solutions Meet Your Challenges
One by One — and Put Them to Rest.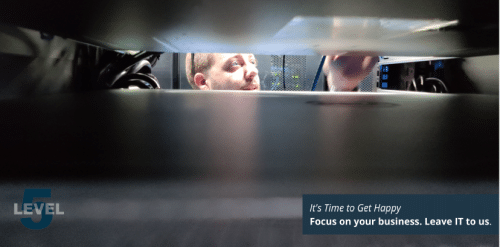 | Not just a provider. A partner.
About
Level5 Management
Based in Boca Raton's bustling business district, Level5 was founded in 2008 under the guidance of Chief Technology Officer Ben Filippelli, a recognized expert in the technology industry. Aft er developing an accounting soft ware company and taking it public that year, Ben sold his company and decided to embrace the tenet of "do what you love," directing his focus to the technical side of IT and business technology as a Managed Services Provider.

Today, Leve5 is the manifestation of Ben's decades of innovation/technology prowess and COO Theon Paulino's uncompromising principles of customer service. To further set ourselves apart from the pack and create a different kind of IT services for business, Level5 created a fully redundant IT environment to keep core services controlled in-house, breaking away from the standard practice of outsourcing IT to 3rd party vendors.
The Basis for Our Name – and Our Philosophy.
The name Level5 was inspired by Jim Collins' acclaimed book on business leadership, Good to Great: Why Some Companies Make the Leap…and Others Don't . "Level 5 leadership" refers to the very top pinnacle in the hierarchy of leadership capabilities. Aft er many years of research, Collins discovered that all of the great organizations he studied were headed by what he referred to as "Level 5 Leaders." These leaders have a unique combination of fierce resolve and humility. They do not seek success for their own glory; rather, success is necessary so that the team and organization can thrive. Leaders at the other four levels may be successful, but they are unable to elevate their companies – or their clients – from mediocrity to sustained excellence.

It's a concept that so deeply resonated with our founders that it became the foundation of all we do. From our inception, we knew that we didn't want to be just one more "good IT support company" in this overcrowded space. We wanted to make the leap to great – to take the thing that we do best in the world and use it to become something exceptional, to do things differently, and to show our clients a way of thinking and a brand of service that they cannot get from just anyone else. We've so internalized the idea of "Level 5 leadership" that it's become the standard we hold ourselves to… and invite you to hold us to as well.
We tailor your services specifically to your needs, so you don't have to worry about anything but your business.